傾斜感測器 »

Micro-Arc Overview

The Micro-Arc family of wide range tilt sensors is designed for applications requiring the widest angular ranges and provides a durable, high-precision solution for customers needing high performance over large angles.   These single-axis sensors feature linear outputs, good vibration resistance, wide operating temperature ranges, non-magnetic construction, and superior cross-axis properties.

Use the table below to find the right product to fit your sensor requirements. 

Part Number
Angle Range
(degrees)
Repeatability
(degrees)
Max. Resolution
(degrees)
Operating
Temperature (ºC)
0728-1025-99
±85°
0.05
0.003
-20º to +100º

In addition to our standard products, we can customize our products to meet your requirements.
to learn more.

To learn more about the principle of electrolytic tilt sensing and how to integrate tilt sensors into your application, see our 技術資料rmation page.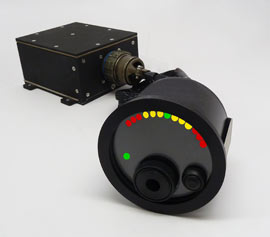 V-PRO車輛翻滾系統 - Early warning of LTV rollover risk, Visual and audible crew alerts, Simple 2-box solution » Read more

Mini Signal Conditioner Boards - Cost-effective & can be integrated into a larger system in a production environment. Easy way to evaluate tilt sensors. » Read more

NEW Electrolytic Tilt Sensor with Patented Thin Film Technology - The sensor provides inclination measurement with arc second repeatability untouched by MEMS sensor technology. » Read more