傾斜感測器 »

玻璃殼單軸&雙軸(大角度)


Glass dual axis wide range tilt sensors are used for applications dual or single axis applications where the highest levels of repeatability and resolution over wide angles.

Use the table below to find the right product to fit your sensor requirements.

Part Number
Angle Range
(degrees)
Null Repeatability
(arc seconds)
Resolution
(arc seconds)
Axes
0716-2203-99
±30° or ±70°
0.2
10
1
0717-2203-99
±30° or ±70°
0.2
10
2
0716-5201-99
±30° or ±70°
0.2
10
1
0717-5201-99

±30° or ±70°

0.2
10
2

In addition to our standard products, we have a range of specialty sensors.  We can customize our products to meet your requirements.  to learn more.

To learn more about the principles of electrolytic tilt sensing and how to integrate tilt sensors into your application, see our 技術資料rmation page.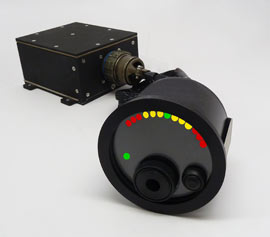 V-PRO車輛翻滾系統 - Early warning of LTV rollover risk, Visual and audible crew alerts, Simple 2-box solution » Read more

Mini Signal Conditioner Boards - Cost-effective & can be integrated into a larger system in a production environment. Easy way to evaluate tilt sensors. » Read more

NEW Electrolytic Tilt Sensor with Patented Thin Film Technology - The sensor provides inclination measurement with arc second repeatability untouched by MEMS sensor technology. » Read more