Custom Capabilities

Ampules

Specialized glass forming techniques allow Fredericks to provide a wide range of ampule configurations, sizes, and shapes. We will custom form your ampules to close tolerances using a variety of glass sizes and materials.

Fredericks' ampule-production capabilities include:

| | |
| --- | --- |
| » | Cylindrical, spherical, and a variety of shapes, annealed, ready for filling |
| » | State-of-the-art control systems for filling various solids, liquids, and gases to exacting fill levels |
| » | Advanced sealing capabilities that assure hermetic encapsulation of the filling substance |
| | Custom ampule filling of "hard-to-handle" materials such as mercury and anhydrous ammonia |
| | Innovative, proprietary machinery that assures repeatability of your unique ampule shape |

Range of Ampule Configurations

Outside Diameter:
.20" to 1.00" (5.08 mm to 25.4 mm)
Wall Thickness:
.015" to .050" (.381 mm to 1.27 mm)
Stricture Inside Diameter:
.012" to .045" (.305 mm to 1.143 mm)
Stricture Wall Thickness:
.010" to .020" (.254 mm to .508 mm)
Ampule Height:
.250" to 3.00" (6.35 mm to 76.2 mm)

Types of Glass for Custom Ampules:

• Pyrex®
• Soda Lime
• N51A
• Kovar

Encapsulation

A specialty of Fredericks is the glass encapsulation of hard-to-handle substances. Whether a liquid, solid or gas, Fredericks has the capability of encapsulating extremely small volumes and weights, such as a glass ampule that holds only 4.5 mg of mercury. Additionally, Fredericks has encapsulated ammonia and other challenging materials. Coupled with Fredericks custom ampule forming capability, we can meet your unique encapsulation needs for prototype or higher volume production.

Fredericks also offers complete product packaging, combining custom-filled ampules with your product labeling for market distribution. Fredericks is your best source for advanced glass encapsulation.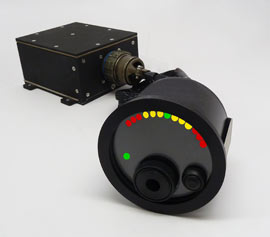 V-PRO車輛翻滾系統 - Early warning of LTV rollover risk, Visual and audible crew alerts, Simple 2-box solution » Read more

Mini Signal Conditioner Boards - Cost-effective & can be integrated into a larger system in a production environment. Easy way to evaluate tilt sensors. » Read more

NEW Electrolytic Tilt Sensor with Patented Thin Film Technology - The sensor provides inclination measurement with arc second repeatability untouched by MEMS sensor technology. » Read more